[February 5th, 2009] 11:32am
Tickets for "Give Back for Zach: Neighbors' Night Out 3" can now be purchased online.
Tickets must be purchased in advance to get them now!!
There will be a silent auction at the event on March 1 so stay tuned. If you have cash donations or products/ services that you can auction, please contact me at
zachsowers@yahoo.com
.
If you cannot attend the event but would like to make a tax-deductible donation directly to Zach's fund at Hopkins, you can do so at
https://jhweb.dev.jhu.edu/eforms/form/zsowers
.
[January 23rd, 2009] 2:23pm
[January 22nd, 2009] 5:30pm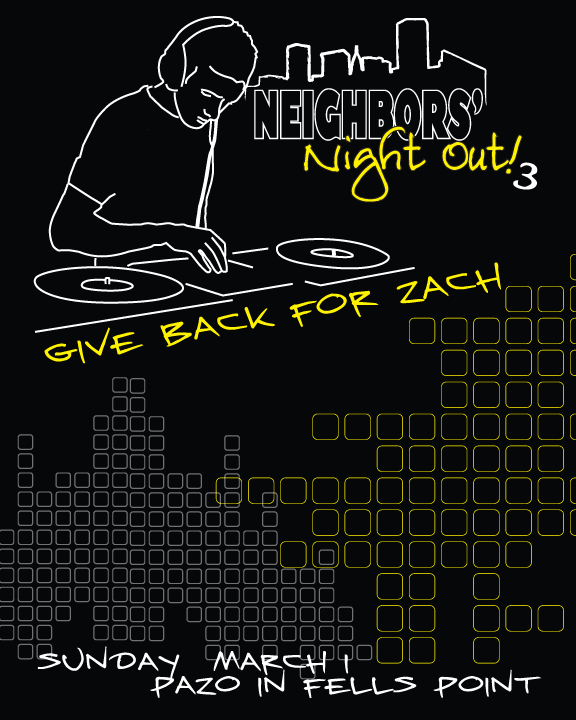 [December 28th, 2008] 10:15pm
Happy Holidays! Thank you so much for very kind words left in the thoughts & prayers section. I don't consider myself a "hero" but it was moving to read your comments. I was also delighted to see that people read the City Paper article and/or continue to follow Zach's website.
I spent Christmas with Zach's mom and little sister at a family friend's house. We did the usual: opened presents, ate way too much food and watched a 10-ft Christmas tree fall over! No one was hurt from the Christmas tree fiasco but it will definitely make for a memorable Christmas. The holidays this year have been easier to deal with than last year, at least for me. I think it's because I'm not at the hospital every day panicking about what might happen next.
The
City Paper article
was definitely an interesting read. I was annoyed with the term Anti Hero that they used. According to Webster's, an anti hero is "a protagonist or notable figure who is conspicuously lacking in heroic qualities." Of coure I'm biased but I don't think it was
me
lacking in any qualities. I have tried my hardest to make a difference in a city with leadership that has turned its back on me. I don't even live in Baltimore anymore and I still want to see change happen for my friends and the other the hard working residents that live there.
And more importantly, the article completely played down the trauma of Zach's attack. Maybe it's b/c they assume everyone knows the severity of Zach's attack that they only mention it briefly. Zach's attack that lead to his death is clearly the reason why I called every political/community leader in Baltimore to ask what could be changed. I wasn't spending my free time outside of the hospital meeting with people for the sake of stirring the pot. I met with and/or called every Who's Who of Baltimore b/c my husband had been ruthlessly beaten into a coma and it seemed like city leaders didn't even blink an eye.
That's
why I meeting with Cheatham, Mitchell, Dixon, Cummings et. al.
I will be reaching out again to Zechariah Hallback's mother, April Owens. She doesn't remember me calling her when I first learned about the news that another innocent person named Zach had died in Baltimore but I hope to talk to her. I think we have much in common
Interview with Owens in City Paper article:
***
As far as race is concerned, Owens doesn't think it should be a factor in any discussion related to violence. "Color doesn't matter," she says. "It's about what you choose to do."
And if Anna Sowers was used by the media, or by the police union, or Keiffer Mitchell, to undermine Sheila Dixon in an election year, then April Owens figures she doesn't feel a whole lot different. Asked if she feels civic leaders used her son's death--albeit briefly--to advance their own agenda, she says, "In a way, I do. You don't hear a lot from those people until it hits the cameras. And once that dies down, you don't hear anything anymore. They need to do better."
***
Lastly, the article made it sound as if I've been so defeated with the system that I've given up but that is not the case at all. In fact, I have a meeting with Kristen Mahoney from the governor's office and Delegate Hammen on January 7 to discuss Zach's Law, and I'm trying to solicit items for our silent auction for Zach's Fundraiser on March 1 as well as celebrity guests.
That's all for now. Have a happy new year! I'm going to be in Chicago for NYE with my Michigan friends - Go Blue! Good bye 2008. Hello 2009! I can't wait!
[December 17th, 2008] 10:29pm
I'm back! Since my last update, I've taken time to enjoy life. I've attended a best friend's wedding with college girlfriends, celebrated with Zach's sister and family as she got married in California, visited another best friend's newborn son, and more. And I've done very simple things like go out to dinner, see a movie, watch the Michigan Wolverines suffer through a re-building season while Penn State soars to #1 in the Big Ten. It feels good. It feels like I'm slowly healing again. And I hope it continues. I do it for myself and for Zach. I want to live the life Zach will never have.
Some good news. Pazo has agreed to reschedule the fundraiser for the
Zach Sowers Brain Trauma Research Fund for Sunday, March 1
. SAVE THE DATE. It's going to be a fun party. A party Zach would have attended and loved—a party where everyone feels young and alive.
Tony Foreman, his wife, Cindy Wolf, and their amazing team have agreed to donate everything for the evening! If you can donate any silent auction items or help in any way, please contact me via the Email Us link at the top right corner of the page. I'm excited to start planning this fabulous event in Zach's name. More info about the event to follow.
Also, today's City Paper has a tell-all feature story about my activism efforts. Check it out at
http://citypaper.com/news/story.asp?id=17227
. Feel free to share your thoughts.
An excerpt from the article:
"But Sowers was wading into troubled waters. As newspaper stories, columns, and broadcast news reports dramatized her husband's attack, and talk-radio hosts pounced on Zach's beating as a symbol of urban failure, many started to question why such a fuss does not accompany the deaths of the hundreds of African-Americans who die every year in Baltimore.
Many local leaders evaded, obfuscated, or deflected issues Sowers raised. Some simply ignored or stopped returning her calls. Some say they did not understand what she wanted from them. Some say her approach was wrongheaded. Others concede they feared a negative reaction if they went too far in support of an Asian-American woman whose white husband had been attacked by black youths."
Lastly, I'm still working on
Zach's Law
. Stay tuned!! I'm back and ready for action.
[September 22nd, 2008] 8:45pm
I haven't posted in a while because I've been busy studying for the LSAT, one of the most academically challenging things my brain has ever encountered.
So much has happened in the past month.
First of all, my thoughts and prayers go out to Ken Harris' family. I was away at a close friend's wedding this weekend and heard about this horrible tragedy. A brilliant life taken much too early. I don't know what to say except that I'm so sorry for his family's loss and sorry for Baltimore's loss of a great human being.
Unfortunately, my friend and her boyfriend were also victims of crime this past weekend. They were both walking up Linwood St (by the tennis courts) after dinner in the Canton Square when they were held up at gun point by a young teenage couple walking behind them. Fortunately, no one was physically hurt. It was only 10 pm on Saturday night and the mugging happened practically in front of her house. Like I've repeatedly said, no one is safe in this City. Some of you may have noticed my
Op/Ed piece in this Sunday's Examiner,
(also below) where I discussed Pat Jessamy's reaction to the
Abell Report
whose mission was to study the disparities between Baltimore City jury outcomes to those of surrounding counties. It's a report that Jessamy should be thankful for - a report that reveals findings that could help her prosecutors - but she wanted the report shelved.
***********
Jury bias, spineless prosecution hamper Baltimore's war on crime
By Anna Sowers
Examiner Guest Columnist 9/21/08
Pat Jessamy's rejection of the Abell Foundation's report on the city's jury problems exposes her self-defeating "leadership" style in a way that should frighten every city taxpayer.
The study idea came from Jessamy's own hardworking deputy prosecutors. The report's mission was to see whether Baltimore juries behave differently from those in surrounding counties.
Yes, it turns out, they do. And the report cites dramatic statistics on how and why.
Yet even before the study's completion, Jessamy said she wanted it shelved. Why would a chief prosecutor want to suppress information that could aid her fight against violence?
The report is an earnest attempt to help Jessamy's prosecutors prevail against the city's criminals — four of whom killed my husband.
When Zach's prosecutors explained why they wanted to cut a plea deal with the attackers, they explicitly told me the harsh realities of Baltimore City jurors.
It's no secret that Baltimore City juries are notoriously biased against prosecutors and cops. The notion is that the mostly black jury pool distrusts the mostly nonblack justice system, and freeing black defendants is their way of settling old scores. The Abell report boldly tries to separate myth from reality.
Though the study avoids attributing the bias to racial issues — preferring the language of cultural inequities that afflict our mostly black city — it nevertheless reveals disturbing truths that no authority can ignore. To wit: Jessamy's prosecutors are 30 times less likely to convict criminals of their worst offenses than prosecutors in nearby counties.
As part of our reform efforts, my friends and I have contacted dozens of people over the past year in trying to draft legislation we call "Zach's Law." We've talked with folks like victims' rights icon Roberta Roper, Rep. Elijah Cummings, state Sen. Brian Frosh, former Rep. Kweisi Mfume, local National Association for the Advancement of Colored People head Marvin "Doc" Cheatham, city Circuit Judge John Glynn, City Council President Stephanie Rawlings-Blake, local Guardian Angels commander Marcus Dent — and many, many more.
We even had a cordial 90-minute talk with Pat Jessamy on Feb. 12. We asked if we could help on any of her crime-fighting efforts. Of specific interest was city juries. To our surprise, Jessamy said she didn't believe jury bias even existed here. She rejected our jury ideas on first blush.
We left her office thinking we had formed an alliance. We were wrong. In retrospect, that meeting paints a clear picture of Pat Jessamy as an ostrich with her head in the sand.
We have seen further evidence of this when State's Attorney's Office spokeswoman Margaret Burns contradicted the accepted facts in the case against Zach's killers — facts agreed upon by Jessamy herself, facts I rely upon in presenting my "credentials" as an emerging activist, facts that are all provably true. Despite my best protest efforts, Burns' deceits remain unretracted by her or Jessamy.
Who are these people? Don't they work for us? Aren't they supposed to help victims?
For a more vivid take on the city's jury problems, consider this: At a pretrial hearing last fall, a TV crew was interviewing me outside the courthouse when a car full of black youths sped by and shouted: "Free my [N-word]!" I found the incident shocking but learned quickly that it wasn't an uncommon mind-set. It was an issue Cheatham knew too well. I met Cheatham for lunch before the trial. Cheatham offered to sit with me in the courtroom as jurors were chosen — to "send a signal," he said. He wanted to make it clear to the mostly black pool of city jurors that racial issues should not be a factor this time. It would not be "business as usual."
Doc kept his promise and sat with me on that awful day. But it turned out the plea negotiations were already well under way. Just another day in Pat Jessamy's Baltimore.
With leadership like Jessamy's, is it any wonder why famed Baltimore filmmaker David Simon has found it so easy to call our city "Bodymore, Murdaland"?
Anna Sowers is an activist with the Web site zachsowers.com. Her husband, Zach, was beaten into a coma in 2007 during a random street robbery and died this year shortly after the men who did it pleaded guilty to lesser charges. Anna is advocating for a law to allow murder charges against attackers who put victims into a persistent vegetative state for more than four weeks.
**************
How can anyone feel safe in a city with a State's Attorney's Office that is 30% LESS likely to convict than prosecutors in nearby counties. A city where the SAO re-victimizes victims, former City Councilmembers are slain, emails about friend's being attacked are a weekly occurrence, and the Mayor is also possibly involved in scandal. It feels like a lawless city, completely run by criminals.
I was talking to a University of Michigan alum at this weekend's wedding, and he said that although he liked the program at the University of Maryland Law, he had a dislike for Baltimore City. I did not disagree. I don't know what this city needs but it's most certainly neither Jessamy nor Burns.
I attended the City Paper's Best of Baltimore Party because I won
Best Do-Gooder in the Reader's Poll
!! Thank you all for voting for me. And I even met a great lady who not only voted for me as best do-gooder but also scored herself some tickets to the event. Thank you, Sheri, for introducing yourself and for all of your thoughts, prayers and support! I hope you had a great time at the event. I wouldn't have been at the party it if weren't for you and everyone else that voted for me.
Page Croyder, former assistant state's attorney, won
Best Insider Perspective
.
And Margaret Burns even won a Best of -
Best Flack
I'll be buried in LSAT books for the next few weeks but I'm still not done with Burns and Jessamy. And I'm still working on Zach's Law and trying to raise money for Zach's Brain Trauma Research Fund.
If you're ever in the mood to donate, you can write a check to ""Johns Hopkins Medicine" with "Zach Sowers Brain Trauma Research Fund" written on on the check and mail it to:
Johns Hopkins Medical Institutions
600 N. Wolfe Street, Meyer 8-140
Baltimore, MD 21287
Attn: Dr. Marek Mirski
Donations are tax exempt.
[August 17th, 2008] 3:25pm
First, some good news. I am now officially done with my MBA! I haven't had time to post a new update b/c I was so busy studying for my final exams. I took my last final on August 6. I did, however, go straight from MBA classes to LSAT (Law School Admissions Test) classes. I take the LSAT on October 4. Wish me luck!
Also, the City Paper's Best of Baltimore poll is still out:
http://www.citypaper.com/bob/poll.asp
. The last day to fill it out is August 29. I think there are dead-on things that you can nominate Patricia Jessamy and Margaret Burns for and some things that you can nominate me for. I would consider myself a worthy candidate for Best Do-Gooder, Burns a candidate for Best Scandal, and Jessamy a candidate for Best Politiician in Need of A Slap Upside the Head. But you be the judge and fill out the Best of Baltimore Survey. Only 1 vote per person. You must be able to vote in at least 25 categories and cannot use the same answer in more than 3 categories. It's a fun poll - fill it out before August 29.
http://www.citypaper.com/bob/poll.asp
I also saw this on the Thoughts & Prayers section -
http://www.msnbc.msn.com/id/25066703/
. Nominate me if you can; this can help shed national light on Zach's story and the crime and scandal taking place in our City!
We have 762 signatures on the petition so far. Lets get to 1,000! Let your friends know.
http://www.ipetitions.com/petition/burnsmustgo
Thanks for sitting in front of our computer and filling out a ton of online stuff for me.
And lastly, Zach's birthday is this coming Saturday. He would have turned 29. And as his former colleague, Tonya Grier, wrote on the Thoughts & Prayers page (Thanks Tonya!), Zach loved chocolate cake. I think he loved any form of homemade cake. And brownies too. I would usually make him brownies or cake for his birthday, and I am not a very good baker so I'd always have to ask Zach when the cake/brownies were ready to be taken out of the oven :) I'd say that Zach considered himself a brownie connoisseur. And Zach loved his mom's homemade icing on her yellow cake too! We'd often go back to his mom's house for a special homemade birthday dinner, complete with dessert. For Zach's last birthday before he was attacked, his 27th, we all went duckpin bowling at the Patterson Bowling Center. It was the first time many of us had ever bowled at the Patterson Center and it was such a fun, memorable experience. For Zach's 28th bday last year, after the attack, we all went back to Patterson and bowled for him. And our childhood friend, who shares the same birthday, flew up and spent the day with Zach and me at the hospital and at bowling. I can't bowl for Zach this year b/c of an LSAT diagnostic and a family engagement but I'll be thinking about Zach's last b-day celebration in 2006, when we were all happy-go-lucky 20-somethings enjoying city life and enjoying each other's company. Happy 29th Birthday Zach. We love you!